Our Therapists

Robert has been in practice since 1995. He graduated from Seminar Network International, also known as SNI and after running a successful practice was asked back to teach and run the student clinics. Robert's continued studies and practice include Swedish Massage, Deep Tissue, Neuromuscular, (NISA) Neuromuscular Integration Structural Alignment, Structural Myofascial Therapies, Aromatherapy, Energy Work, Usui Reiki & Jin Shin Jyutsu and Thai Massage. In 2009 he completed PAS (Postural Alignment Specialist) training with Egoscue University and has practiced and incorporated this amazingly effective functional exercise and exercise therapy in his practice. Robert can make suggestions and recommendations in the areas of nutrition, stretching techniques, and healthy eating, he believes in constantly increasing his knowledge base through continued training education. All those who know Robert know that he is deeply passionate about his work and works always from the heart and from the compassion and gratitude in his life. Robert's practice is intuitively inspired . . . Robert believes that Massage Therapy should be available and affordable for all who desire, appreciate, and respect the Art of Healing.

Walter is an Egoscue Certified Affiliate specialized in postural alignment, and has earned his certification through the Egoscue University. The Posture Therapy that Walter uses focuses on preventing and eliminating musculoskeletal pain. It can improve neuromuscular function and correct muscular imbalances in a short amount of time with the application of a few simple positional exercises, specifically chosen for your body . Walter trained and worked as a therapist at the Egoscue Method clinic and then transitioned into his own therapy practice. He has been involved with Fitness and Exercise for many years both as an athlete and a personal trainer Walter is committed to finding the most appropriate and effective therapy routine for each individual, according to their personal history and existing musculoskeletal imbalances. He is passionate about giving hope and lasting results to people who feel stuck in a seemingly endless cycle of pain. "I suffered from low back pain for many years and eventually developed severe sciatic pain. After several visits to my local chiropractor, and no significant relief from the pain a friend referred me to the Egoscue Clinic I found tremendous relief from the pain from my first visit and as I continue to do my e-cises the pain was less and less until eventually it totally disappeared . That is when I had a life changing moment, and decided that this was my calling in life, and it meant to help as many people as I could to live a pain free life".
Rese graduated from Florida State University in 2016 with a Bachelors Degree in Family & Child Sciences. Upon graduating, she realized she wasn't interested in anything that the Family & Child Sciences industry had to offer, but she always knew she wanted to help others. With that in mind, her aunt came to her with information about posture alignment. After researching what it was all about, as well as the process, she decided it was something she was interested in pursuing. In January 2017, Rese earned her certification through the Egoscue University. She has a passion for not only people, but a goal of making people healthier and happier as well. She hopes that you will take the next step in transitioning into a pain-free lifestyle!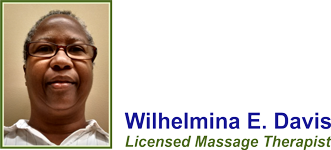 License massage therapist since 2011. Specialize in Swedish massage with varying pressures to release or reduce muscle pain. She started as a massage therapy client and soon realized how much the therapy reduced her pain and increased her range of motion. Wilhelmina's goal is to help people feel as she did with the massage treatments and this is why She became a massage therapist.
Jessica is a Colorado native whose love for massage started at a young age. She graduated from the Colorado School of Healing Arts in 2010 with a Associates Degree in Occupational Sciences in Massage Therapy. In her studies she specialized in Oncology, Manual Lymphatic Drainage, and Reflexology. Helping cancer patients is a passion of hers which she explored with an internship at Porter Hospital and Hospice of Saint John. She has received additional training in Myofascial Release studying with John Barnes. Jessica integrates Swedish, Deep Tissue, Myofascial Release, and stretching to treat injuries such as those incurred from car accidents and chronic pain from conditions such as TMJ syndrome. Her massage is result oriented, focusing on finding the root of the issue and treating it. She also enjoys educating her clients on ways for them to continue to get results with self care and incorporating complementary modalities. Jessica is passionate about continuing to grow her knowledge with massage to continue providing her clients with the best care.